Machine Tool Cooling is our Specialty
Turmoil is a US manufacturer of industrial liquid chillers and machine tool cooling is our specialty. We are completely familiar with the challenges of achieving precise temperature control while minimizing downtime in a harsh industrial environment. For many years, Turmoil coolers have set the standard for quality and reliability.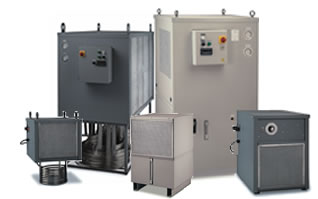 Turmoil offers a complete line of oil and coolant coolers for many applications from machine tools to medical diagnostic imaging equipment, linear motors to hydrostatic bearings, lasers to x-ray equipment, EDM to high speed spindles. With capacities from 2,000 to 360,000 BTU/HR, Turmoil coolers are available for Closed-Loop, Open-Loop, In-Line or Drop-In tank applications.
Turmoil application engineers are specialists, available to help you in the selection or design of a cooling system for any specific application. They are familiar with your applications and our equipment. Please don't hesitate to contact us.