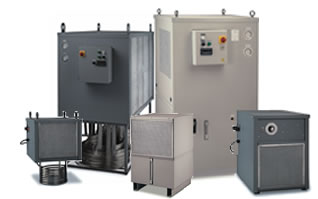 About Turmoil
Turmoil began as a manufacturer of oil coolers specifically for use with machine tools. As both the speed and precision of machine tools increased, the control of heat became critical to the maintenance of extremely close tolerances. Close coolant temperature control can eliminate center line migration on high-speed spindles and heat distortion of machined parts. Lower temperature coolants increase tool life while reducing oxidation and evaporation. Parts positioning can be stabilized by controlling the temperature of hydraulic oils, lubricants, and coolants.
Machine tool cooling is still our specialty. Turmoil is completely familiar with the challenges of achieving precise control while minimizing downtime in a harsh industrial environment. For many years, Turmoil coolers have set the< industry standard for quality and reliability.
Today Turmoil offers a complete line of oil and coolant coolers for many applications from machine tools to medical equipment, linear motors to hydrostatic bearings, lasers to X-ray equipment, EDM to high-speed spindles. Turmoil coolers provide the precise temperature control of recirculating coolants that is necessary for precision machining and reliable equipment operation.
With capacities from 2,500 to 360,000 BTU/HR, Turmoil coolers are available for Closed-Loop, Open-Loop, In-Line, or Drop-In tank applications and are specifically designed to cool either water-based coolants, light oil or synthetic coolants. They are available with a long list of options and accessories, allowing the engineer to design the best cooler for his or her specific application.
Turmoil application engineers are specialists, available to help you in the selection or design of a cooling system for any specific application. They are familiar with your applications and our equipment. Please don't hesitate to contact us.